The 70s was the post war period in the whole world however it gave us 8 Most Elegant cars of 1970s expanding our choices of cars to a longer stretch.
The post-war automotive industry was full of spectacular growth, innovation and financial success. British, European and American car companies were vital cogs in helping to kickstart economies. Also to achieve renewed prosperity – employing thousands of workers and achieving enormous sales, both at home and through exporting abroad.
Here we go with the list of 8 Most Elegant Cars of 1970s
List of 8 Most Elegant Cars of 1970s
Stutz Blackhawk
The Blackhawk basically is the 1970s wrapped up in a single car. It cost slightly more than a Lamborghini Miura, but what you got was a body that was hand-built in Turin, Italy. More than 15 coats of paint, gold-plated trim to go with shag carpeting, and your name engraved on a plate on the dash. It was a hit among the celebrity crowd — postwar Elvis, Willie Nelson, Lucille Ball, George Foreman, and a host of others all bought one.
Elegant Cars: Aston Martin V8 Vantage
Touted as "Britain's First Supercar" upon its debut in 1977 on account of its 170-mph top speed, Aston Martin's (original) V8 Vantage was a luxury grand tourer. It combined the brand's signature levels of comfort with the aesthetics of a high-performance American muscle car. The first generation of the model produced 390hp and 406ft-lbs of torque, allowing it to reach its blistering top speed. On top of later being offered with the even more high-performance X-Pack, the British-built muscle car was also offered in a host of additional variants. The latter of which was driven by the super spy James Bond himself in the 1987 Bond flick, The Living Daylights.
Ford Cortina
The Ford Cortina was by far and away the UK's most popular car of the 1970s. It all started when Ford unveiled the handsome, American-influenced Mk3 at the 1970 London Motor Show. Essentially, the Mk3 replaced the Mk2 Cortina and Corsair, with Ford pinning. Its hopes on a larger saloon that targeted fleet and family buyers. From lowly base models to the plush GXL and 2000E versions, there was a Cortina for all budgets.
The Mk4 of 1976 was a heavily reworked version of the Mk3 but with squarer styling. This was followed by the updated Mk5 of 1979, which saw the Cortina through to the controversial launch of the Ford Sierra.
Saab 99 Turbo
Sticking a turbocharger on the humble Saab 99 was like your Auntie Agnetha swapping bingo night for a bungee jump. It transformed a safe and dependable car into a performance icon which laid the foundations for a future of turbocharged family cars. It proved that practicality and performance could go hand in hand.
Launched in 1978, the 99 Turbo breathed new life into a car with its roots in the 1960s, with four different body styles available. Here was a car that could hit 120mph and make everyone feel like on cloud nine.
BMW M1
Another Giorgetto Giugiaro design — this time on behalf of Italdesign — the BMW M1 was one of the first supercars and the Bavarian brand's first mid-engined model. Built specifically for racing, this wedge-shaped car was homologated for competition use, with 453 examples being produced in total. At the heart of the M1 was BMW's M88 straight-six engine making around 275hp. Though the actual factory race car — the M1 Procar — was even more impressive, offering a 4.5-second 0-60mph time and a 192-mph top speed thanks to its mid-mounted 470-hp six-banger.
Lamborghini Countach
True beauty is timeless, but most things that seem shockingly futuristic for their day tend to age badly. The Countach somehow looks just as baffling today as it did in 1974. Which is why it stayed at highest level of poster-car status throughout both the '70s and the 1980s.
Fiat X1/9
Designed by the same man as the aforementioned Stratos — incidentally, Marcello Gandini also designed the DeTomaso Pantera and both the Lamborghini Countach and Miura. Among many, many others — the X1/9 was a lightweight car that went toe to toe with the likes of Porsche's 914. It had all of 61hp, but because it weighed down around 2,000lb. The handling was more than enough to make up for the lack of grunt. Basically, it was Fiat doing cheap cars right — when new in 1974, it cost just a smidge more than a well-equipped Mustang II.
Porsche 911 Carrera 2.7 RS
The 911 Carrera 2.7 RS is one of the most desirable of the classic Porsche 911 models. Built to satisfy homologation rules, the 2.7 RS (Rennsport), saw the return of the famous Carrera name, first used in 1955. As the name suggests, power was sourced from a 2.7-litre engine that was powerful enough to propel the hardcore 911 to 155mph.
Highlights included wider rear arches, 7×15 Fuchs alloy wheels and a 'ducktail' spoiler. Side stripes were optional. Most models left the factory in the relatively lavish Touring trim, although 200 people opted for the stripped-out Sport.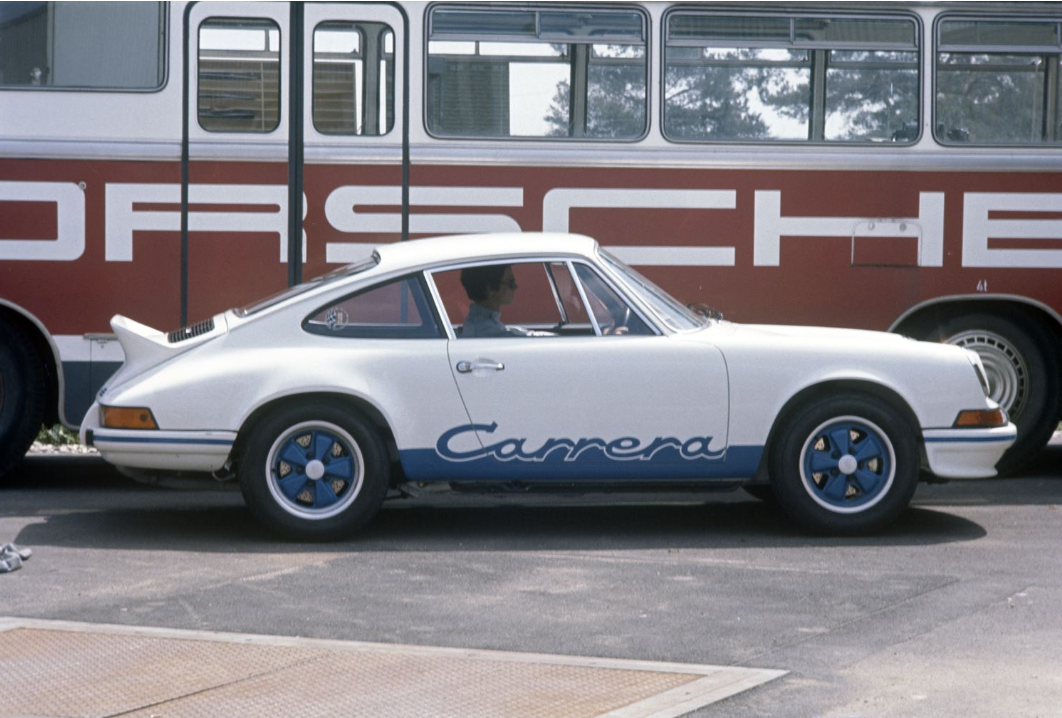 Conclusion
The 1970s was a great decade for supercars, superminis, sports cars and everything in between. Let us know in comments which one among these 8 Most Elegant Cars of 1970s is your favourite.
Also Read: Car Comparison 2023: Chevrolet Silverado 1500 vs. Ford F-150