Winter road trip essentials are equally important and pretty different from the summer road trip essentials. You may think road trips are only a summer thing, but winter road trips offer plenty of opportunities for adventure, sightseeing, and fun. If you want to plan the ultimate winter road trip, we've got a list of your top must-haves to keep you safe on the road.
Winter Road Trip Essentials List For a Comfortable Road Trip
Winter brings frigid temperatures causing cold-related illnesses like frostbite and hypothermia. The weather also impacts driveability, and the snowy and icy conditions lead to nearly one-quarter of all weather-related car accidents. Over 70 percent of the roads in the USA get snow. Depending on the area of the country you'll explore, you need to prepare for cold weather and winter-related driving. So, you must be prepared with all Winter road Trip Essentials and here's the list!!!
A Basic Clothes Packing List for Winter Car Trip
Here's a basic overview of what you can pack for most winter road trips, whether we're heading out for a weekend or a couple of weeks. Remember that most people are only going to see your outer layer, so you don't need to pack a huge variety of clothing. Here is a list of few important items:
Two pairs of pants
One pair of warm leggings
2-3 Wooly shirts
2 light wool sweaters
Winter heavy coat
One pair of insulated hiking boots
A puffy jacket and vest
Liner gloves and waterproof mittens
A wool beanie
Extra pair of woolen socks
Hand Warmers
Car Blanket
Ice Scraper & Snow Brush
With winter comes ice, snow, and sometimes lots of it. An ice scraper keeps your windshield and windows clean, so you can enjoy the scenery and drive safely.
A snow brush also comes in handy. You may struggle to use your hand to fan off the thick blanket of snow covering your vehicle. Instead, use a snow brush to clear off your windows.
Smartphone Mount
Mounting your smartphone is an easy way to use it for its satellite navigation while driving. If you connect your phone to the car for music via Bluetooth then the budget one below will be perfect.
If you connect your phone to the car for music using a wire then you could consider this phone mount which includes wireless charging. That way you can listen to music and charge your phone at the same time.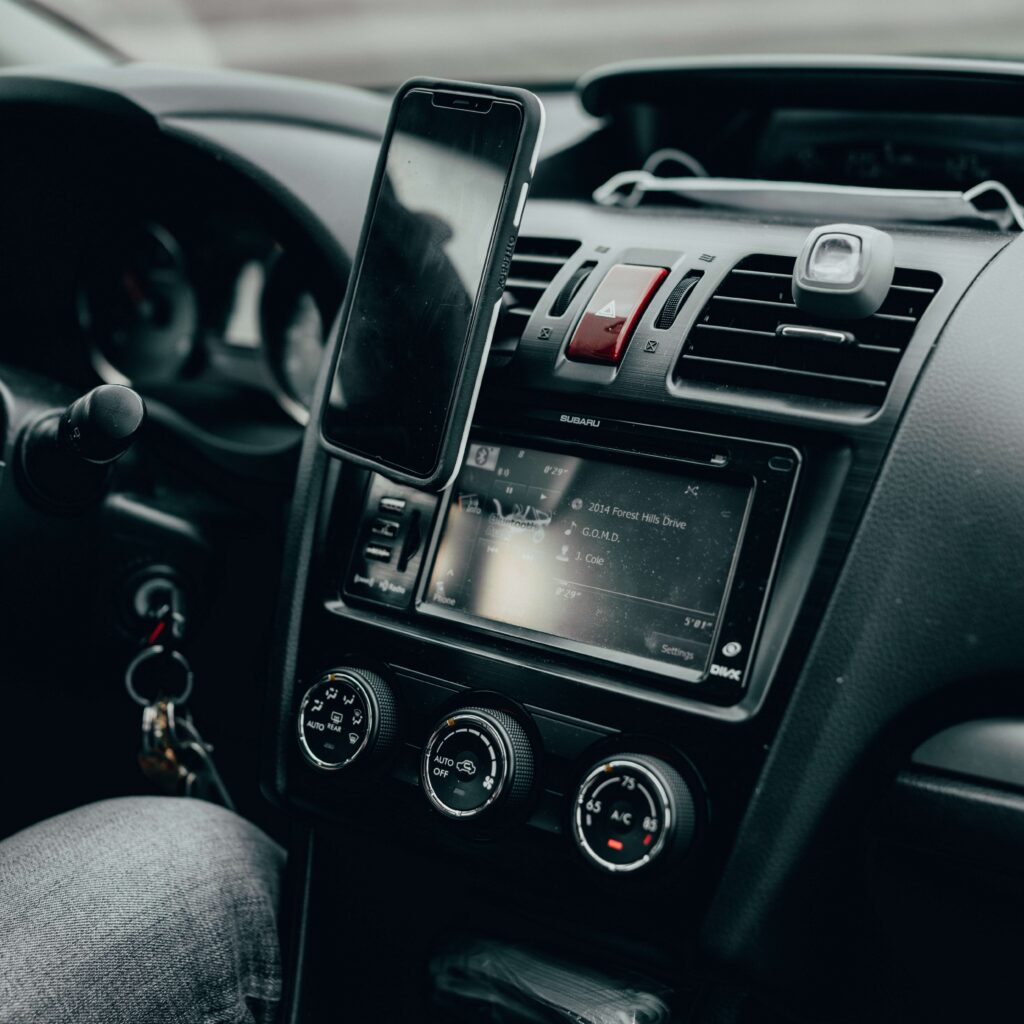 Windshield Wash with Antifreeze or De-Icer
You'll need to keep extra windshield wash handy to refill when you get low. Driving in snowy weather brings with it plenty of slush that gets thrown up on your windshield. You'll want to clean your window more frequently. 
Additionally, it is essential to make sure your wiper fluid can withstand winter temperatures, so your windshield doesn't frost over when you use it. You can purchase a de-icer to melt the iced-over windshield when you spray it on. Or, spray the de-icer on before a storm comes to help keep the ice from accumulating.
Snow Chains
Even if your car is outfitted with snow tires during the winter season, this is an important essential to pack. Like cleats dig into the field to support football players better than tennis shoes, snow chains give your car a little more traction in the snow than all-season tires.Tire chains are such a winter road trip essential that some mountain states have "chain carry" laws requiring travelers to have snow chains with them during the winter months.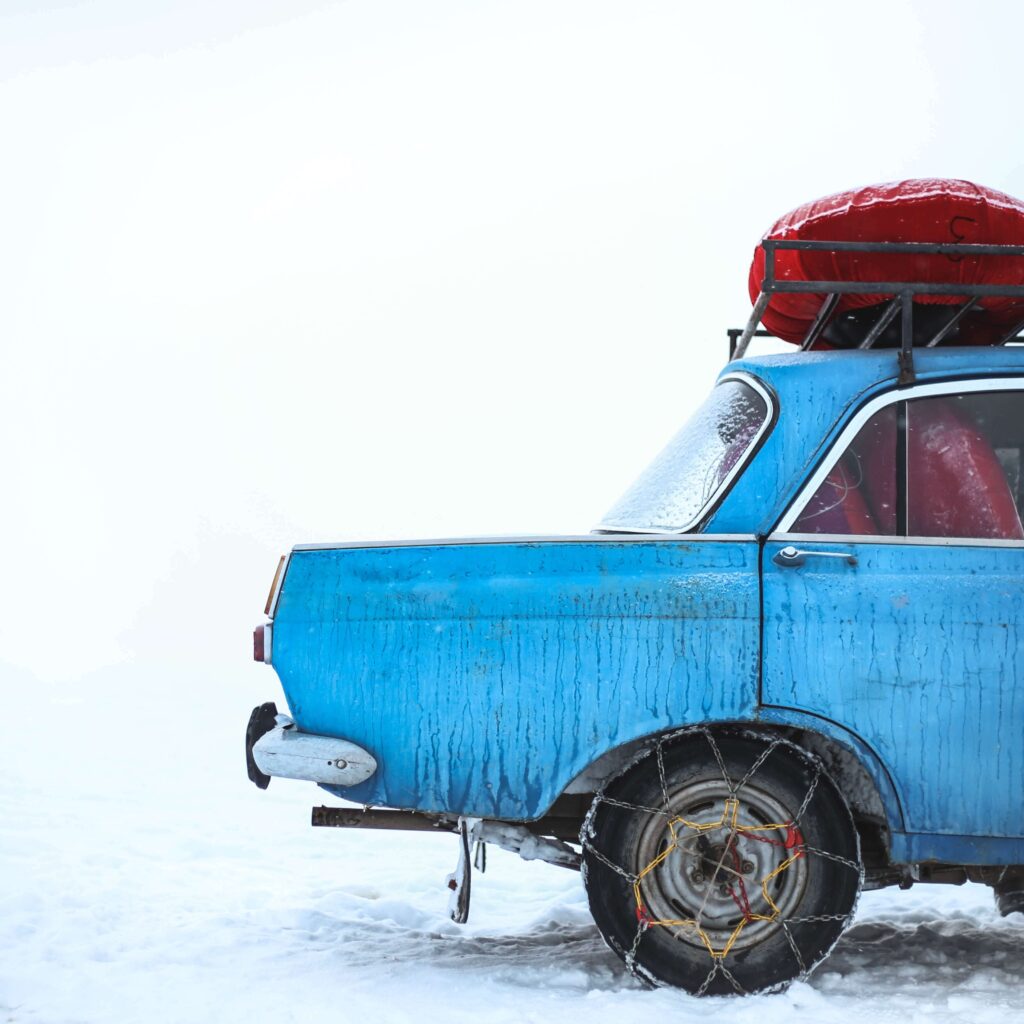 Empty Gas Can
When your gas needle is at a fine line between half full and half empty, you start looking for a filling station. Keeping your tank on the full side is especially important during a winter road trip, when driving with snow chains can result in lower gas mileage.
Or, you may find yourself at a standstill due to an accident. (This happened to me during an especially wicked Thanksgiving road trip during an ice storm.) Adding an EPA-approved gas can to your winter road trip checklist can be a godsend if you run out of gas, and the best thing about this 2.2-gallon gas can is that your car won't smell like gas.
Tow Strap
A tow strap comes in handy for many uses, some of which don't even pertain to winter. In the winter, you can use it if you get stuck in the snow, in a ditch, or need to help pull others out. But it also comes in handy if you get stuck at a beach or in a muddy area during other seasons.
Tow straps are typically polyester. They don't stretch, which can lead to them snapping. They can cause injury or damage when the metal hooks hit something or someone. However, recovery straps have loops instead of metal hooks. 
Invest in some good recovery straps if you want something with some stretch made to pull a stuck vehicle. Regardless of which you choose, get one that's rated for your vehicle weight.
Hand & Toe Warmers
Hand, toe, foot, and body warmers are good items to keep in your vehicle for emergencies. Plus, they last for years, which means you can store them in your car.
Once you need some extra heat, shake them up and stick them in your gloves, socks, or boots. They'll provide hours of warmth, with some lasting eight hours and up to 20 for other products.
Conclusion
We hope this list or essentials didn't scare you off from enjoying a winter road trip. After all, a road trip in any season can make amazing memories.
If you enjoy visiting places in the off-season for better rates and less traffic, the winter can be a perfect time to head out on a road trip. So gather up the supplies from this list, and get ready to hit the road or the slopes.
Also Read: Road Trip Essentials for Summer: Must-Haves for Your Car Trips